How it all began
The Automotive Literature Archives were founded by David Kalensky in 1985. The main focus of the collection are car sales brochures, price-lists, press-kits and books.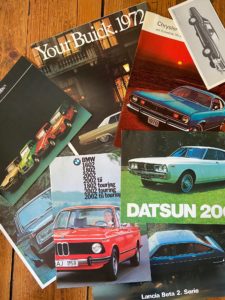 How the collection came to be
My interest for cars began in my early childhood. With the age of eight, I started to collect car sales literature systematically. Later I managed to add older brochures by donations, swaps or purchases. A valuable source are other collectors in Switzerland and overseas. Some became friends over the years.
Thanks to understanding salespeople, importers and marketing-staff of the companies, I was always able to get current literature for my archives. On some holiday trips, the collecting of brochures was an interesting addition, as the following pictures from the USA prove: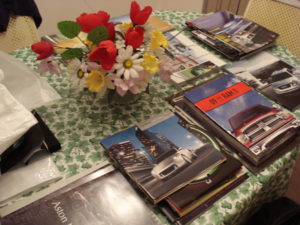 Autojumbles and swapmeets can be a very good source of hard-to-find literature: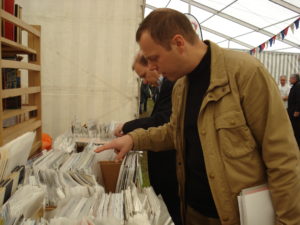 The focus of the Automotive Literature Archives
With our archives we focus on car brochures of all makes. Through donations, purchases and intense collecting activity, some main areas have emerged over the decades: British, American, Italian, French, German, Swedish and Czechoslovakian car brands. With our activity we want to make a contribution to preserve this aspect of our industrial and technical heritage.
Careful storage is important to keep the brochures in good condition. As those documents vary in their size, quality of paper etc. one has to find various storage options. Room temperature and humidity must be monitored, direct sunlight is to be avoided. Especially challenging is the storage of oversized brochures. A most convenient way can be a cupboard with large metal drawers.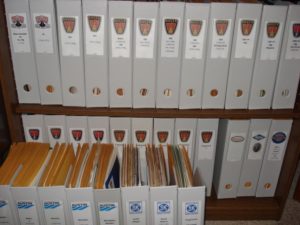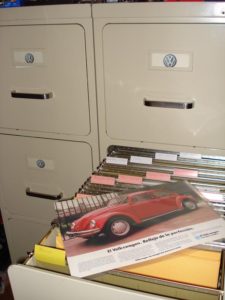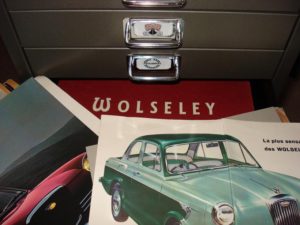 Paper should be stored in acid-free cardboard or metal. If brochures are kept in regular cardboard or on wooden shelves over a longer period of time, they are likely to discolour. Acid-free storage material can be obtained by specialized manufacturers that cater to archives.
Car brochures wanted
The collection is never complete. There are always gaps and potential additions. For this reason, we are constantly looking for automotive literature, be it a collection of car brochures or some old stock of automobile catalogues from a car dealership. Please get in touch with us, if you have a collection of car brochures for sale or to donate.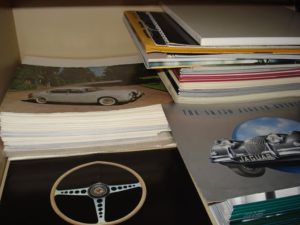 Contacts and Swapmates Wanted
We are interested in contacts to other archives and collectors of automotive literature. This can be for information exchange or to exchange brochures. We have large stocks of duplicate car brochures and will be happy so swap. We are very interested in car literature from the UK, Spain, Portugal, Italy, Sweden, Russia, Turkey, Israel, Iran, South Africa, Nigeria, Egypt, Japan, China, Indonesia, Argentina, Brazil, Chile, USA, Canada, Australia, New Zealand and other countries. Please get in touch with us – be it to exchange car brochures or information.