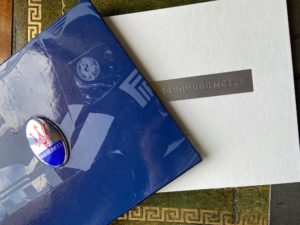 This is a prestige brochure with slipcase of a car that was produced in 2004 and 2005 by Maserati in a very limited production run. The Maserati MC12 (or Tipo M144S, the internal project name) was a two-seater car that was conceived to compete in the FIA GT Championships.
In 2004 and 2005 some 50 cars were produced to be sold as a Stradale-version to the public. The car was based on the Ferrari Enzo. This heritage is far from obvious, because the Maserati is longer and wider than the Enzo.
The brochure is a great example of Italian design. The white book is carefully crafted and includes superb photography. The blue slipcase boasts a three dimensional Maserati-logo. The makes the owner of the brochure feel a little bit like an owner of the real car.