Autoprospekte – Catalogues Automobiles – Catálogos/Folletos de Coches – Brochure/Depliant/Cataloghi Auto – Folhetos de Carro – Automobilové Prospekty – Bilbroschyrer
Welcome to the official pages of the International and Swiss Automobile-Archives (est. 1985)
The aim of the International and Swiss Automobile-Archives is to collect and preserve vintage automobile literature. The collection consists of car brochures, price-lists, press kits and motoring books. We want to contribute to the preservation of this chapter of automotive history, with all its industrial, technical, marketing and sociological aspects. The archives are one of the largest car brochure collections of Switzerland and among the most significant in Europe.
Estimation of your collection
I have over three decades of experience as a car brochure collector and initiator of the archives. My expertise covers most areas of automobilia in general and automobile sales literature in particular. I will be happy to share this know-how, if you would like evaluate your collection. The following services are available:
Expertise/estimates/valuations
Expertise report of a collection or part of it
Consulting when building a new collection
Consulting in archive-related issues (e.g. storage, insurance)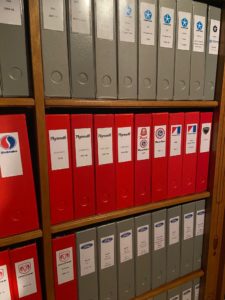 Further informations on estimates
The collection
Apart from your personal interest and passion for a specific subject that normally is the initial spark to start a collection, there are very rational reasons, too:
Examples of the use of original car literature:
for the car company or importer that has lost a part of its own archives or needs inspiration for specific projects. Access to the archives may be useful in one of the following contexts: New model launches – brand heritage projects – exhibitions – concept car projects – marketing/advertising – brand management – sales activities/promotions – just to name a few possible areas of interest.
for the car-dealership or vintage car specialist that wants to sell a vintage car and needs to complete its history file by first-hand and authentic information. These additions to the file of a specific car can not only be useful as a primary source of information. It can also have a positive effect on the value of a vintage car on the market or serve as a valuable source of information.
for detail-research by an owner of a specific vehicle, e.g. while restoring or repairing the vehicle, as a source of detailed information, as proof of originality when dealing with insurance companies or the road traffic licensing department or just for her or his own interest.
for other archives and museums looking for information or specific material as research or exhibition purposes, to complete their own collections or to complement a file of one of their exhibits.
for motoring writers: they may want to find information on details, availability and prices in a specific market or looking for images of original period sales literature for their topic. Illustrations from original sales literature are a valuable addition to any motoring book, magazine or online article about vintage cars. The not only show the car – they also reveal the advertising fashion of their time. Brochures are a primary source of information as they were usually edited and published by the car company itself.
for insurance companies or other specialist companies that need to do research on details of a specific model, e.g. to assess the authentic condition of a car or its value
for sociologists and advertising companies who want to dive into the advertising style of a certain period. This can be one of the most interesting aspects. When comparing the style, visuals and texts of car advertising of one decade to another, it is not just the product that has evolved, but many social and cultural aspects, too.
and there are many more interests…
Please contact us if you have any automobile literature, such as car brochures, sales brochures, catalogues, price lists and press kits for sale. We are also happy to consider swaps with our duplicates or consider buying whole collections.